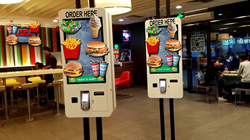 BOCA RATON, FLORIDA (PRWEB) SEPTEMBER 25, 2017--Boca Raton, Florida, Exceptional 3D, the world largest provider of Glasses-Free 3D displays and solutions today announced 3 new products to their already impressive product line. All 3 new products are Portrait displays to meet the increasing demand for popular large formats vertical displays for various applications.
The company announced their 32" Glasses-Free 3D 4K Portrait display is ideal for Quick Service Restaurants, Pharmacies, Convenient Stores and other places where you might find smaller format digital signage displays. Exceptional 3D other two new models are their 58" & 85" Glasses-Free 3D 4K kiosk, designed for applications in shopping malls, transportation hubs, stadiums & arena's. The kiosk supports ultra-thin commercial displays and accentuates the sleek look of the kiosk while providing ample space to integrate a media player.
"We are excited about these new size Portrait displays," said Mike Egan, Exceptional 3D President & CEO, "as we are seeing more demand for these types of vertical size displays in the marketplace. We feel that they will also be big sellers for us especially in retail locations and in Quick Service Restaurants for Digital Menu Boards, where patrons as an example can see menu items such as a hamburger POPPING off the displays 10-15 inches prompting patrons' 'sense of sight' in addition to the aroma of food one smells when visiting a QSR."
These new portrait displays compliment the already impressive lineup of Exceptional 3D landscape Naked Eye 3D displays ranging in size from 10.1" to 65" that they have been selling around the world in various vertical markets.
Exceptional 3D will train clients on the ease of producing 3D portrait content as many companies are now opting for Glasses-Free 3D displays over traditional 2D displays to attract more viewers with eye catching content and to make transition from 2D to 3D go smoothly.    
For more information about Exceptional 3D new product line visit their website at https://www.exceptional3d.com or contact Mike Egan at 800-314-9122 ext. 1 or by E-mail Mikeegan(at)exceptional3d(dot)com or follow us on Twitter @exceptional3d or on Facebook.
About Exceptional 3D 
Headquartered in Boca Raton, Florida, Exceptional 3D is a global leader and the world's largest provider of "Glasses-Free" 3D displays and software solutions for digital signage industry. Operating under several patents Exceptional 3D designs precision 3D lenticular lenses to create their auto-stereoscopic display technology for virtually any display size or application. Exceptional 3D solution enables flat-panel displays to highlight amazing ultra-high definition 4K immersive 3D content without the need for 3D glasses, while still being capable of supporting playback of standard 2D content.
It is the company mission to capitalize on the natural evolution of display technology by making their Glasses-Free 3D solution a more cost-effective alternative and mainstream product for the for the fast-growing Digital Signage OOH market. The company offers their 3D displays at comparable cost to 2D screens and trains end users to enable them to create their own 3D content, making the ease to transition from 2D to 3D simple.
Ideal applications for this disruptive 3D display technology is wherever traditional 2D displays are placed which would include vertical markets for retail, transportation, restaurants, stadiums & arenas, cinemas, hospitality, casino gaming and various other applications. More information about Exceptional 3D is available by visiting https://www.exceptional3d.com.